·
VENDOR "Innovation over imitation"
Discussion Starter
·
#1
·
Hi guys,
Hope everyone is well.
The first group of these sold out in one day and more of my Chameleon tenors are coming in this week.
This is the first mouthpiece I am offering from my new
Rollover Baffle Series mouthpieces.
It is a rollover baffle powerhouse tenor piece that has a huge body of sound!
The next piece in the series is an alto piece that will be coming out shortly. It will be warm and full sounding for the straight ahead alto sound lovers.
The Chameleon is incredibly versatile, and you can compare it in the same category as the Freddie Gregory Mark III rollovers, Navarro Bop Boy rollovers, and RPC rollover pieces.
It has more power and punch than all three of those, while retaining that HUGE sound.
It can be used from anything from straightahead jazz to the nastiest funk. Incredibly flexible and versatile.
For the jazz player that likes a big huge straightahead sound and wants more volume and power, this is it, and it can be played gentle too.
For the power player that likes having all the power, but does not want a step baffle, this is it.
After this weeks orders are filled, I will have these 6 that I can make available:
1. 7**
2. 7**
3. 7**
4. 8*
5. 8*
6. 8*
If you normally play a 7* tip, the 7** in this model will be easy as can be to play, because of the design.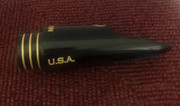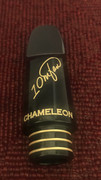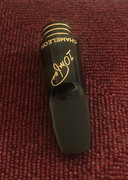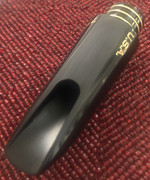 German bar stock hard rubber and beautifully hand finished.
$385 plus shipping from Florida
Email me at:
[email protected]