Discussion Starter
·
#1
·
Hi all,
I'm fairly new on SOTW and have been reading mostly sax-related topics. Not sure whether this is the right section for this post, so please put me right if necessary.
I'm after some advice on a pair (Bb and A) of Selmer Series 9 Full Boehm clarinets a friend of mine from Romania is looking to sell. He used to be a professional clarinet player in the local Philharmonic Orchestra and bought them directly from the Selmer factory near Paris a while back, but he now works as a composer, arranger and conductor and no longer uses them - you can see him conducting in this clip:
The clarinets have only been played for about 5 years and are in playing condition. I've attached some photos made with a phone.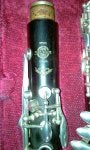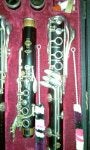 He's asking for EUR 1600 - is this too much/too little in your experience? I understand the best valuation can only be done after seeing and playing the instruments, but under the circumstances I would grateful for your opinion based on the available data, with the assumption that there are no defects and the instruments can be played straight away.
I've not bought 2nd hand stuff online, so I have no experience in general, let alone when it comes to musical instruments - would people be likely to part with a big wad of cash based only on photos and without the possibility to assess their condition and tone in person?
Just curious...
Codders