Discussion Starter
·
#1
·
I just wanted to toot the horn, so to speak, of an artist whose canvases are saxophones that not only look cool and unique (at least I think so) but also play well. John Miranda is an artist from South Carolina who takes relatively ordinary saxes and turns them into great playing works of art. He has two "not your ordinary Bundys" up on ebay now, an alto and a tenor:
https://www.ebay.com/itm/Unique-Festive-SELMER-BUNDY-ALTO-SAX-with-PRO-TEC-Gig-Bag/183601759192
https://www.ebay.com/itm/Custom-SEL...C-Gig-Bag-in-very-good-condition/183609249512
I first noticed John's work when he listed a Rampone & Cazzanni stencil that I thought was really cool in blue and brass and would have really stood out from all my
other
R&C stencils. Unfortunately, I got sniped.
Then I got it into my head that I needed either an Armstrong 3008A or a King 660. You know, the ones with the rolled tone holes and high F# key. I asked JayeLID if he had any and he immediately sent the link to this 3008A that John had listed on EBay. I wound up buying it for a great price and have been very happy with it.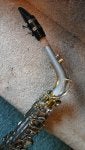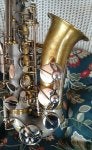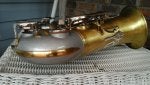 It plays great and it's in immaculate condition. I love it.
John puts a lot of work into these horns between cleaning them up, painting and lacquering them and getting the mechanicals in good playing condition. Here's what he told me about why he does this: "I really don't know why I feel the need to spend the time to "redo" saxophones, but I do enjoy it. It's alot like the feeling I get when I create a piece of art. I have an idea of what I want to do and I develop it as I do it. There's just a bit more mechanics demanded in painting saxophones than painting on canvas."
So if you're looking for a reasonably priced sax that plays well out of the box and looks like absolutely nothing else out there, check out John Miranda's offerings on EBay: "p_a_m37".
Just my opinion as a happy owner.