Discussion Starter
·
#1
·
There's always been doubt as to whether Rudy Wiedoeft ever played one of the Holton saxophones named for him. But this evening I was browsing through the library newspaper databases and found something exciting: a tiny blurb in the January 20, 1928 issue of the St. Louis Post-Dispatch that, well, read for yourself!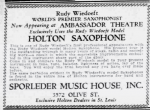 This is huge. Even if this wasn't a permanent thing, and setting the obvious advertising hyperbole aside, it's obvious that Wiedoeft at least used the Rudy model for this engagement (and it was a multi-night engagement; I found an identical ad in an earlier issue).
Wiedoeft apparently performed in St. Louis several times during the 1920s. He performed at the Odeon on October 4, 1923, described as "the man who makes the saxophone human". AND he apparently did a live performance for KMOX in 1927.
...I work in St. Louis, so yes, this is huge on a personal level, too.