Discussion Starter
·
#1
·
https://www.korg.com/us/products/tuners/kdm_3/
List US$59.99, I paid $39.56 from Prymaxe on Reverb.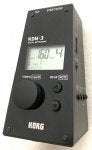 The Humili-trome, as Jorma Kaukonen calls it, is a vital tool for my most efficient progress at my stage of musical learning. And perhaps for any serious musical learner, no matter their status. I always seek good function and good value in my tools, and appreciate when a maker gets one right, so I wanted to tell you about the KDM-3 if new to you and you might be interested in a great practice aid.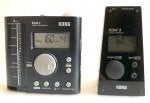 First, the KDM-3 [on right], which has been out for about a year, replaces the KDM-2 [on left]. I used a -2 for almost a decade and it is found in many teaching studios and band rooms because it was fairly loud for its time. When I began playing sax, I found that I easily drowned it out and especially could not hear a differentiated beat one when counting every beat. Otherwise, the functionality was more than adequate for my needs. Ergonomically, it worked once familiarized, but was inconvenient in several respects-most significantly the tempo setting dial was flat, slick, and difficult to adjust with one hand. The display was crisp and legible; the start/stop button would flash red for beat one and green for the rest, and the tap button was convenient and worked well.
The KDM-3 is an improvement in all respects. To begin with, the form factor emulates a small mechanical metronome rather than the flattened, rounded tippy style of the -2. The 4½-inch-high KDM-3 pyramid is more stable on its base. The non-backlit B&W LCD displays are similar in size and legibility and show essentially the same necessary information. The KDM-2 has a matte front face while the -3 is a single piece of glossy plastic (and replaceable with wood in some upcharge limited editions), but I do not find glare to be a problem except when trying to photograph! The tempo setting knob is much easier to operate with a single hand and has smooth but crisp detents. The common controls are on the front and top, with less used functions on the side. The rear-most on/off button is a far reach at first, but your hand quickly learns to find it readily-and it has a small raised dimple for positive identification. An important update for the -3 is auto-off after 15min. of no interaction with the metronome; the -2 would remain on until batteries were drained (both use 4 AA cells). The -3 also adds a functional timer that will silence after a set period if, say, you wish to practice exercises for some period of time and be notified that it is over by the metronome going silent. The -3 adds a very synthetic woman's voice counting beats in English to the sound choices. Otherwise, the features of the two models are similar. Read about the comprehensive specifications in the link at the top.
Most importantly, the KDM-3 is significantly louder than its predecessor. I have changed my beat voice preference from wood-block to a mechanical click with bell on ONE, and I can both hear it clearly while playing, as well as not be distracted by it. The wood block sound is not quite as natural as the -2, but again louder, and not unpleasant.
As for portability in a case for travel, the -3 is slimmer but the -2 is flatter. Neither is as handy as a tiny Boss DB-30, for example, but then you may find that electronic beep really annoying, as I do.
This is a fairly basic metronome. It will count up to 9 beats per measure, and 1/8ths, 16ths, triplets, swing triplets, shuffle 16ths, and two clave rhythms. It is not a substitute for fully-customizable beat subdivisions like the Boss DB-90, or a drum machine. If you already have a KDM-2, there is not a huge reason to upgrade to the -3, but it is more stable, louder, and has somewhat improved ergonomics and useful added features. If you have no desktop metronome for your practice room, I most highly recommend the KDM-3. It is a well-made, soundly functioning and affordable learning and improvement tool.