Hi!
I just received the Super Action 80 tenor discussed
here
. It even came with 3 (quite dirty) mouthpieces (original Selmer S80 C*, Vandoren T27, Meyer 6M).
However,
the octave key mechanism appears to be bent: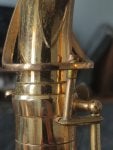 It doesn't looks that way in the seller pictures, the octave key looks closed yet it can't close on mine (It does close fully when the neck is not on the horn):
For now I kind of fixed it by removing the little plastic sleeve:
Can I unbent it or will I break it trying and I should wait?
There is no repair shop in my city and we're in lockdown.
Apart from that and some dents, the main issue is the dirtiness of the sax.
Some of the pads are fine, but others have a kind of white powder over them.
What can I use to clean them ?
It plays rather easily, except for the lowest and highest (palm keys) notes. I guess there are some leaks, but I shall adress them when the octave key is fixed.
Should the dents be a concern, or are they mostly a cosmetic issue?
Thanks!