Discussion Starter
·
#1
·
On my Keilwerth stencil tenor, the octave pad takes a while to fully close if I'm coming down from A2 or higher to D2 - G2, making these notes stuffy and difficult to play. This seems due to some resistance in the lower octave pad mechanism. The upper octave arm is also slightly off-center and rubbing the post to the side, but I don't think this is the primary problem. Two questions:
Can I fix this myself?
If I shouldn't attempt a DIY fix, what exact fixes should I expect from a competent tech?
Here are the details:
Going down from say A2 to G2, the upper octave pad remains slightly open. However if I push as indicated, the pad does close properly. (If I'm playing, the pad also closes on its own after a second -- I guess the vibration or air pressure somewhere helps it to close.)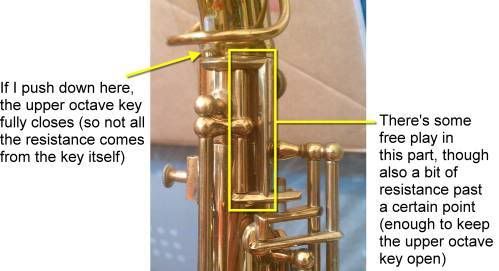 There is some play in the part indicated by a rectangle, but also a slight resistance against moving back, which I think may be the main cause of the octave mechanism taking a while to close. It also means that the lower octave key doesn't open very far -- I guess this doesn't help the stuffiness either.
The octave arm does rub against the side post a little -- perhaps this means the spring can't work so well, but I'm not sure that this is the primary problem.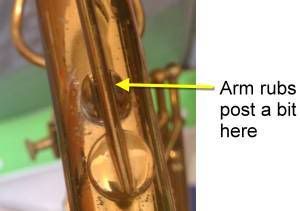 One more detail -- if the top octave mechanism is closed and I then finger D2 - G2 and press the octave key all the way in, the octave mechanism also opens a tiny bit. Not nearly as much as when coming down from A2 and above though.
Thanks in advance for any tips. If I were in the US / UK I'd just take the sax straight to a good tech, but they're a bit thin on the ground here and I'd rather do it myself if possible, and if not, at least know a specific fix that I should ask a tech to perform.