Discussion Starter
·
#1
·
Thanks to some encouragement from Keshr, I've finally found the time to take pictures of my own Holton C-mel. I hadn't intended to purchase a second C-mel, but when I saw this horn floating around on eBay for over a week with literally NO ONE interested in it, I decided to put in the minimum bid and see what happened. I ended up getting it for peanuts, which I still can't quite believe, since this is probably one of the most beautifully preserved vintage saxophones I've personally come across outside of a museum.
First up, the case. The handle gave up the ghost at some point, but the rest of the case is still in great shape. It's covered in faded stencils that I can't quite make out, which is bothering me to no end; this horn's history could be right in front of me, and I can't read it!
And here's my beautiful horn in its case. The white patch on the interior of the lid is damage to the lining, but that's literally the only damage inside this case. The padding is still thick, and, while the camera doesn't pick it up very well, the lining is the most striking emerald green.
The horn assembled. For an instrument that's in all likelihood never been serviced in its 96 years of life, it's in outstanding shape. The pads still seal for the most part, and the action is comfortable and natural. And I love the sound! If my Buescher is my "classical" C-mel, the Holton definitely wouldn't sound out of place in a dance band; this horn is big, loud, and has a lot of personality. It's a bit finicky about mouthpieces, but I was able to find one it liked eventually (more on that in a bit).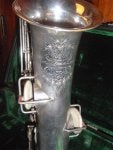 And now for the accessories! This horn came with some pretty interesting things in its case. The first up - and the least interesting - is the mouthpiece. It's a Conn Eagle, and, oddly enough, the horn
hated
it (and in consequence, so did I). Aside from the intonation being way off, there was something in the overall sound quality that just sounded...off. I tested the horn with two other mouthpieces, my Buescher C-mel piece and a Goldbeck alto piece, both of which were a better fit. I ended up buying a real Holton C-mel piece in the end, and that ended up being the one that worked best.
This next item had my inner historian going nuts: a real vintage neckstrap, probably the one that originally came with the horn back in 1923. (There's a photo of Rudy Wiedoeft wearing a neckstrap identical to this one, so that's as good as any for evidence.) I wouldn't dare use it, but it's still cool to have and a great piece of saxophone history.
There's one more accessory, but I've hit my picture limit for this post. Next up, an unidentified metal object!