Discussion Starter
·
#1
·
It jams nearly flawlessly from bottom to top. The body pip spring is a little weak and it sometimes stays stuck down, messing up D2 through G2, although of course I can hit them without the octave key it makes it easier when the mechanism works.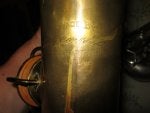 1. The bell engraving... different than my 1919
2-3. All three left to right 1919 Wonder, 1920 New Wonder, 1926 NW II "Chu"
4. The iconic nail file G#
Initial report:
For some reason it feels waaaay smoother than the Wonder or New Wonder, now shorthand to W. and N.W. The Chu seems to play in tune effortlessly without the usual embouchure adjustments that increase in pronouncement to the Wonder. It has a different quality to the tone also... not as ballsy as the 1919 W. or 20's soulful like the 1920 N.W., it is exceptionally dark in its nature, even with the high baffle Metalite. It is easier to subtone, and feels faster in its keywork. Palm keys vastly improved from flimsy ones, they stick out more. I have decided that I cannot sell it