Discussion Starter
·
#1
·
Hi!
A few months ago, I bought a Yamaha YTS-280 and noticed there is a little brass tube sticking inside the neck of the saxophone. It seems to be part of the octave hole (the one that opens when you play notes lower than A with the octave key pressed... sorry... I lack the technical term for these).
I use to play the alto (a Conn) and there was no such tube inside the neck of the sax. I don't think it affects the sound (or at least not at my level of playing) but I am curious to know if this is normal or a manufacturing error.
Here are some pics for better illustration: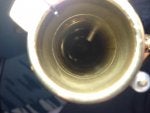 (view form the top of the saxophone with bell removed)
Thanks in advance for your insight!
LD