·
SOTW Columnist/ Forum Contributor 2014, Disti
Discussion Starter
·
#1
·
Junior Walker
Bio courtesy Billy Wilson
Of all the great musicians who played on scores of Motown records, almost none of them got label credit, much less a chance to bask in the spotlight. The lone exception was Junior Walker, born Oscar G. Mixon and later changed to Autry DeWalt Walker, in Blytheville, Arkansas. He was inspired on alto and tenor sax by George Mason, Gene Ammons, Louis Jordan, Earl Bostic, and Illinois Jacquet. He had a special respect for Charlie Parker and Nashville session man Homer "Boots" Randolph. Walker should be close to the top of the list of any of rock & roll's great tenor saxophonists.
Walker grew up in South Bend, Indiana, where he took up saxophone in high school and started his first band The Jumpin Jacks, a combo which consisted of Junior (sax), Joe Neil and later Fred Patton (piano), and Paul Smith (drums). Later Junior joined another group, and they played as a trio in local jazz and R&B clubs in Niles, Michigan. The group was called Billy "Stix" Nicks and the Rhythm Rockers, run by Billy Nicks. The group at that time consisted of Fred Patton (Piano/Organ), Billy Nicks (drums), and Junior. Eventually Willie Woods joined the group as a background vocalist to make up the quartet. Woods soon after picked up the guitar and started performing with the group. When Billy Nicks joined the army, Walker continued the group as the Jumpin Jacks. When Walker moved to Battle Creek, Michigan, he took Woods and Patton and formed The Junior Walker All Stars, which consisted of Fred Patton , then later Victor Thomas (on organ), Woods (on guitar & background vocals), and Tony Washington (on drums).
Washington was replaced by Jack Douglas (Drums), but Douglas couldn't cut the session for the Motown hit "Shotgun" because he only made live performances. The group eventually picked up the drummer that would make all the photo sessions-James Graves. While playing the local club circuit the following year the group was spotted by Johnny Bristol. Bristol recommended them to Harvey Fuqua, who signed them to his own Harvey label. Fuqua's Tri-Phi and Harvey labels were taken over by Motown Records in 1963, and Junior Walker and the All-Stars began recording for the subsidiary label Soul in 1964. In early 1965, Junior Walker and The All-Stars recorded "Shotgun" (#4 pop, #1 R&B, 1965) and had a string of party hits that included "Do the Boomerang" (#10 R&B) and "Shake and Fingerpop" (#7 R&B) in 1965 and "How Sweet It Is (to Be Loved by You)" (#18 pop, #3 R&B). After the departure of the drummer James Graves, Junior called on his long-time buddy of the 1950s Billy "Stix" Nicks to join the quartet. Nicks helped continue his reign of party music with the ever-rocking title cut off the album I'm a Road Runner (#20 pop, #4 R&B) in 1966. Walker continued with hits such as "Pucker Up Buttercup" (#3 pop, #11 R&B) and "Come See About Me" (#24 pop, #8 R&B) in 1967, and "Hip City, Part Two" (#7 R&B 1965) in 1968. With Walker singing more, The All Stars had success with "What Does It Take (to Win Your Love)" (#4 pop, #1 R&B) and "These Eyes" (#16 pop, #3 R&B) in 1969, "Gotta Hold On to This Feeling" (#21 pop, #2 R&B) and "Do You See My Love (For You Growing)" (#32 pop, #3 R&B) in 1970, and "Walk in the Night" (#46 pop, #10 R&B) in 1972. Walker continued recording in the 1970s, including a stint with ex-Motown producer writer Norman Whitfield's label in 1979. He provided the saxophone solo for Foreigner's 1981 hit "Urgent" and re-signed with Motown in 1983.
Junior Walker and The All-Stars toured into the 1990s. Junior Walker died in Battle Creek, Michigan, of cancer on November 23, 1995. After the death of Walker, Billy "Stix" Nicks, along with Billy Wilson, continued the Junior Walker's All Star Bands reign of party music through the new millennium. The group now consists of Billy "Stix" Nicks (drums), Willie Rankin (sax), Roschelle Laughhunn & Kathy Hannemann a.k.a. Kat Webb (background vocals), Jon Gee (lead and background vocals), Cedrick Davis (guitar), and Billy Wilson (bass guitar & background vocals). As long as Walker's music exists, the reign of Motown will exist in the hearts and minds of baby boomers and future generations alike.
The following notes are courtesy of nightowlclub.com/tributes/jrwalker (no longer available);
When Walker first became interested in the sax, he said, I used to go to the house of a guy named George Mason. He blew a horn, tenor sax. He had an alto, and he had a tenor. I used to go to his house every Sunday. They used to jam every Sunday, and the police would bother us every now and again. I'd just go and watch and listen. I went over one day, and the band wasn't there. George was. So there was this alto sittin' there, and I picked it up and said to George, "Well, show me." I told George, "Man, I like the crooked horn." That's what I called it. So he showed me a few things on it, and I started blowing. Kept foolin' with it. He'd blow some notes, and I'd just go along with him. One day I guess I got too good, and he got uptight. He just looked at me, and he took the horn away. So I left.
Walker got his first sax from a relative. His uncle, a retired Horn player from Chicago, visited him. Walker recalls: "I heard you was tryin' to blow a horn," he said to his nephew. "Yeah. I'm gonna be bad." "I got a horn at home. I ain't gonna blow no more. I'm gonna give the thing to you. Now I couldn't get into really big time. So I want you to blow it." The next time the retired horn player saw his nephew, Walker was blowing with a little band in South Bend. He had traded in his uncle's horn at Rosenbaum's pawnshop for a better one, but as he heated up, the dented old honker couldn't keep pace.
His mother came to the rescue, Walker shares:
"My mother said, 'I'm gonna help you get your horn.' Because she was working, and I was trying still to work construction. She took me down to Elkhart, where they make horns, and she said, 'Just pick you out one of them good horns.' It cost about five hundred dollars, back then that was supposed to be cheap. She put it on layaway, and she was payin' on it every week. That Selmer Mark 6 is the horn that made all the Motown hits, I took that horn and gold plated it, put it up on my wall at home. It still sounds the best, better than this one here, which I got in 1966 or '67. Sometimes I have to walk over and take it down. Oh, when I get to blowin' that horn, it's pretty."
Jr. joined the Jumping Jacks (later known as the The Sticks Nix Band) at the age of sixteen. The leader of the band was the drummer Billy "Sticks" Nicks. By time the band moved to Battle Creek, Michigan, the leadership had fallen into the hands of the saxophonist. During this period his name changed again. He claims he was nicknamed "Walker" because as a child he would walk everywhere. In 1962 Jr. Walker & the AllStars (organ Vic Thomas, guitar Willie Woods and drums James Graves) often played at the El Grotto bar. Johnny Bristol and Jackey Beavers (a duo) were also regular performers at the club. Johnny has fond memories of the club: "Jackey and I sang on a weekend and Junior's was the band, it was the El Grotto bar, affectionately known as the "Bloody Corner", because someone got bloody every weekend!!"
Johnny & Jackey had recorded the original version of "Someday We'll Be Together" (later a hit for the Supremes) for Detroit's Tri-Phi label operated by Harvey Fuqua and his wife Gwen Gordy. It was Bristol that suggested to Jr. that he and his group make records. Jr. answered, "If there's some money in it, yeah, let's make it." The quartet cut three singles for the Fuquas' Harvey label. When the Harvey label was absorbed by Motown the band made a separate deal with Berry Gordy, Jr. and were placed on the Soul subsidiary label. One of the biggest hits was "Shotgun." Jr. remembers: "I wrote that tune after watching a couple of kids do this kind of different dance in a club." (a song that Junior sang on by default, as the original singer didn't show up for the recording).
This record took them from bar band status to international stardom. Berry Gordy, Jr. and Lawrence Horn added bassist James Jemerson and other studio players to fatten the band's sound. In 1966 he did a cover of Marvin Gaye's "How Sweet it is to be Loved by You." The saxophonist recalls:
"We were fooling around at the start of a session. Me and the band were playing and there were a lot of people in the studio shouting at us to play. The producer, Lawrence Horn, was in the control room and somebody started telling everybody to keep quiet because we were going to start recording. Then I listened to a tape we'd made and it sounded great, just like a party. So we decided to make the record just like that."
A second single was cut during that session which Walker called Go-Go-Go-Going, but it was canned. Drummer Graves was killed in a '67 road accident and the original AllStars left not long after. Walker was advised to take a softer approach by producers Bristol and Fuqua; the result of that was "What Does it Take to Win Your Love," another smash hit. The singing saxman (although he didn't consider himself a singer-"I prefer playing to singing because I can't sing.") continued having hits with Motown through to 1976. In 1979 he reemerged with two 45s and an album on the Whitfield label. In 1981 he played sax on the Foreigner hit "Urgent." He returned to Motown in 1983 and cut the album Blow Your House Down. In 1989 he appeared on the little known label Washington Hit Makers and did a sax version of Jimmy James's "I'll Go Where the Music Takes Me."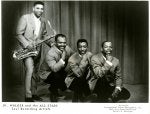 In the early days the AllStars were big earners for the Motown dynasty. It saddens me that the only information available on them is the work of independent journalists. Why is that? I can't answer that question. However, I do have opinions that I will keep to myself. Even in some of the Motown celebrations, anniversaries, and TV programs, he got little or no recognition, unlike some of the so-called Motown stars who "in my opinion" were just about good enough to perform as one of his backing singers. Walker was just an ordinary guy who never talked about his humble origins. I reckon he was happy to put food on the table for his family. He never lost his roots-"without roots big trees fall down"-as did so many of the more glamorous artists. I suppose another angle to look at it from is that he was fortunate to have made international status unlike many other talented performers from his era. That might be the case, but even if he had not signed with Motown and moved onto lesser known labels, we in the Northern Soul scene would still have found him, and I'd still be typing this tribute...because he is our sort of artist.
Discography:
1965 Shotgun (Motown)-Motown
1966 Soul Session-Soul
1966 Roadrunner-Motown
1967 Live-Soul
1969 Gotta Hold on to This Feeling-Motown
1969 Home Cookin'-Motown
1970 Live!-Motown
1970 A Gasss-Soul
1971 Rainbow Funk-Soul
1971 Moody Jr.-Soul
1973 Peace & Understanding-Soul
1974 Jr. Walker & the All Stars-Motown
1976 Whopper Bopper Show Stopper-Soul
1976 Sax Appeal-Soul
1976 Hot Shot-Soul
1977 Motown Special-Motown
1978 Smooth-Soul
1979 Back Street Boogie-Whitfield
1983 Blow the House Down-Motown
1994 Nothing But Soul: The Singles-Motown
https://en.wikipedia.org/wiki/Junio...A4_G3VReFfyToJC4_6BQ6FMkAow9GvjMM6rEmFpS2yw8w
https://classic.motown.com/artist/j...OSzn1KmPL-RoRh0agbbmOLKWh9jqjpHXHsZnSETkikxxQ
https://www.discogs.com/artist/2425...NVptQBl9rTcOLDHQAgoby8VJEOZJGD08woXSHZmNy9b-8