Discussion Starter
·
#1
·
I mentioned that I had made a magnetic dent removal tool and was asked to post a photo so, here it is.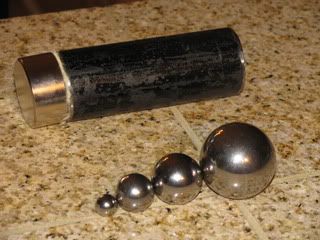 Pretty simple, a 1" steel bar, a 1" diam x 1/2" thick super strong magnet, and various size steel balls.
You want to use something between the sax and the magnet. Some of the kits come with lubricant or a teflon plate, I just use an old sock (classy, I know...).
It works really well for the larger dents that are not real deep. When you start getting into the smaller tubing the small balls just don't have enough mass to pull hard on the metal.
For what it cost (I think less than $20) it has worked very well for me.
Ethan