·
Distinguished SOTW Member, Forum Contributor 2007-
alto: 82Zii/Medusa, tenor: Medusa, bari: B-901, sop: sc-990
Discussion Starter
·
#1
·
This is a thread about Holton Reso-Tone saxophones*. It is a rarely seen model from the 1930s which was a professional horn. Some are silver plate and some gold lacquered with nickel keys. Thank you to LaPorte who provided the bulk of this information.
Here is a printed advert for the introduction of the Reso-Tone model.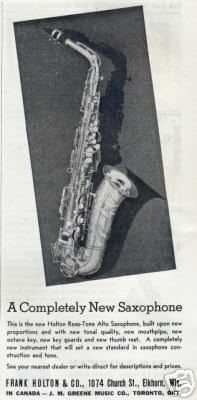 Quote; "
A Completely New Saxophone
"
"This is the new Holton Reso-Tone alto saxophone, built upon new proportions and with new tonal quality, new mouthpipe, new octave key, new key guards and new thumb rest. A completely new instrument that will set a new standard in saxophone construction and tone.
"
*not to be confused with LeBlanc Reso-tone student clarinets.
More photos and information to follow…