Discussion Starter
·
#1
·
I'm hoping you can help me find some info on a mouthpiece I once had.
It came with my tenor sax (a used conn at the time) and was a bit unusual in design and I unfortunately don't recall the markings on it as its been years (~15) since I lost it.
It was a steel, probably stainless, mouth piece... with a size 0 or 1 tone chamber/baffle, but if you look at the image below the exterior profile of the mouthpiece matched the interior giving it a rather flat thin shape at the end.
Edit: Actually if you choose the 0/1 baffle and only look at the white "interior" portion of the diagram thats almost exactly the shape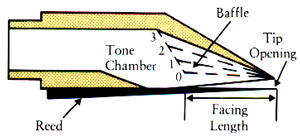 I rather liked the sound it gave and the feel of the more traditionally shaped mouthpieces has never felt quite right to me.
Any help you guys and gals can give me would be greatly appreciated