Discussion Starter
·
#1
·
Gimmick or of some value?....
Has anybody of seen or heard of these? A mouthpiece modification? (link to EBAY Ad below)
"baffle" inside the chamber of the mouthpiece by "adding a specially designed adhesive inserts. You can leave it in permanently, or remove it when you want to return to standard."
"Sax Baffle is a specially shaped plastic piece that you stick on the inside of your mouthpiece- about a quarter inch from the tip rail.
How does it work?
-- It increases the velocity of the airflow through the mouthpiece.
Result?
-- Quicker response, BIGGER SOUND!
Compatibility?
--Works on any Soprano Sax, Alto Sax, Tenor Sax or Bari Sax standard mouthpiece.
(also great on Bass Clarinet!)

One size fits all!"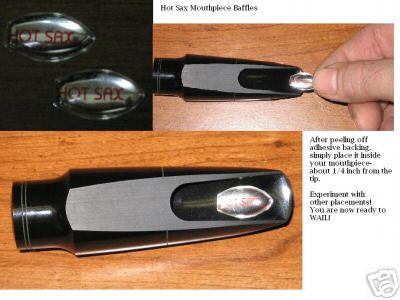 http://cgi.ebay.com/Alto-Sax-JAZZ-mouthpiece-mod-fits-any-brand-/300568384914?pt=LH_DefaultDomain_0&hash=item45fb459592


....what is that they say?...if it sounds too good to be true...:tsk:
Fester