Discussion Starter
·
#1
·
I've got a leak in my G# pad which affects the low C#, B and Bb since those mechanisms are on the same rack. I know this problem is caused by the G# arm which connects to the F# key.


There's a screw that touches down to the top of the G# key cup. I've eyeballed it and I can see that the cup moves up and down just enough to let a piece of paper slip in. I'm not a tech or anything, so I don't want to mess around my horn for fear of damaging it. The arm mechanism is pictured below: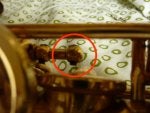 Is this an easy fix? I don't have a leak light or any repair tools save for a screwdriver.