·
VENDOR "Innovation over imitation"
Discussion Starter
·
#1
·
10MFAN "Alto Madness" alto sax mouthpiece....I literally cannot keep these in stock.
These will be able to be shipped on Friday.
This is ALL about the sound.
This mouthpiece has a full-bodied, warm, sweet sound top to bottom. An old school resistance to be able to push against, and plenty of volume. Its incredibly in tune.
A very rich sound with body and depth!
This has a great design: slightly scooped out sidewalls, low floor, lower rollover baffle, and bigger, deeper chamber----and its NOT dull!
It gets more sound from such an open internal design than you would EVER expect.
All you vintage Meyer and Link lovers hoping for a modern mouthpiece that's really got it right--THIS IS IT!
These are all German bar stock hard rubber:
ALTO MADNESS 5 (.072) X 3
ALTO MADNESS 6 (.078) X 3
ALTO MADNESS 7 (.084) X 3
ALTO MADNESS 8 (.090) X 3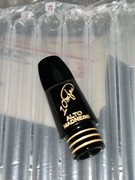 Dave Pollack was on his Meyer alto forever.....until I made the "Alto Madness".
Come see for yourself what this mouthpiece is all about. These recordings are beautiful representations of what this mouthpiece does.
Original design mouthpiece made of the finest German bar stock hard rubber and hand finished by the best.
World-class mouthpieces made affordable for players today.
$365 plus shipping
Email me directly at:
[email protected]