Discussion Starter
·
#1
·
There are rumors, that they exist, but I doubt that this one is original: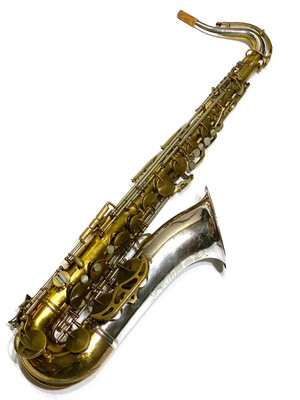 This King Zephyr is a one-of-a-kind custom made or prototype "Silversonic" style horn with sterling silver bell & double socket neck from 1952. As a professional player, this horn is one of the best playing King horns I've ever had the grace to play, having played literally hundreds of them over...
The existing ones should be earlier specimen -Zephyr Specials with full pearled sidekeys.
Who should order a "custom" Zephyr Silversonic in times the Super 20 Silversonic is already existing?
In my opinion the bell is simply silverplated, which can be seen on the ring between the bow and the bell, which should be brass and is laquered brass on Super 20 Silversonics.
The same with the posts of the bell keyguards…
The brass ring in front of the neckcork and the brass socket of the octave tonehole on the neck are silvery, too. So I think the neck isn't solid silver, too.
There is no "Solid Silver" or "Sterling Silver" stamp at the front of the bell, but I'm not sure whether all silver bells did have the stamp.
Opinions?