Discussion Starter
·
#1
·
A mystery horn for you, vintage aficionados...
Some time ago I bought a small saxophone in a flea market, supposing it was a curved soprano. It was cheap and I liked the idea of having a tiny old horn at home to show.
Surprise was that it's actually tinier than expected, since it's actually a C curved soprano.
The engraving on the bell is very faint, but I'm pretty sure it reads:
D. Rancilio
Milano
Esportazione (unreadable word)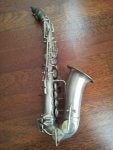 I tried looking everywhere on the internet but apparently nobody ever made a curved C soprano. An old kohlert catalogue points to a similar instrument but A)it has the same catalog number as the Bb curved soprano B) Nobody has a proof that it ever existed.
I don't know if Rancilio made his instruments at the time or just stenciled someone else's horns, but the tiny silver beast looks like no other horn I've ever seen and some mechanical solutions are very original (and pretty archaic, to be honest).
It is keyed from low Bb to high (very high) Eb, with an automatic octave key. No pearls or serial number. It originally came with some white pads without resonator and a stitch in the center (there were a few missing: I tried to repad it, but modern pads are too thick... maybe one day I will try with clarinet pads, but from what I was able to "play" on the instrument it sounds nothing like a saxophone). Soldered tone holes.
Detailed photograph:
http://flic.kr/s/aHsjMhic3T
with a direct comparison to a Bb straight sop (I tried to align the stacks so you can notice that I'm not talking about a very sharp Bb curved soprano).
What can you tell me about it?