Discussion Starter
·
#1
·
:headbang:
What a great city. The food and people are just amazing. Visited Sound Elegance (fuga) first.
Honestly not at all impressed.
Some nice horns including a SBA tenor in a beautiful dark honey original appearing finish.
Not at all friendly. I was ready to buy some reeds etc. but they couldn't be bothered to even acknowledge my presence.
Next stop some decent kaiten sushi - chu-toro, ikura, uni, hamachi and salmon. Tons of places to eat all over Tokyo and I've yet to find anything sub par.
Walked to the Ishimori shop. Maybe 10 mins away. Would have been impossible to find without friendly locals.
180 degrees from the previous store.
Super friendly.
I tried both the vintage alto and tenor.
I've been a Selmer tenor guy 155xxx VI and SA80III and Yamaha / Selmer 62S, VI and SBA alto guy for decades. I've never played an Asian horn other than Yamaha and Yanagisawa.
Truthfully I'm going to visit a tech for checkups on my main axes when I get home because the Ishimoris were both *so* good that my horns felt downright unresponsive in comparison. Especially true in the low C, B and Bb.
Tried the no F# alto and the tenor with F#. Both of them were even in scale and darker sounding than my horns. Altissimo was a breeze on both.
On my Selmer tenors I've resorted to lowering the action on the front F key to help facilitate a reliable G. Not necessary on either of the Ishimori horns. Split tone altissimo alto notes were ridiculously easy.
They both seemed lighter in weight than my Yamaha and Selmers.
I can see why the Ishimoris are popular now. Not sure I'm super excited about paying roughly $4K for a horn with Taiwanese roots but I'd definitely consider it. That would have never been even a possibility prior to today.
Picked up a few boxes of reeds and mouthpieces patches along with some literature and a really great impression. I was already favorably predisposed towards the brand as I play an Ishimori mouthpiece and ligature.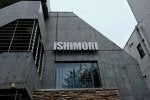 There was a fella with what sounded like an Aussie accent playing tenor trying the silver neck screw. He swore it made a difference. I didn't try one (and am skeptical to be candid) but I cannot dispute his finding without trying them myself.
On the overall - highly recommended.