Discussion Starter
·
#1
·
Hello,
I came down with a case of GAS (Get A Sax) today when I came across a Buescher 400 Alto in a local pawn shop for $369. I know just enough about Bueschers to be dangerous, and that seemed like a good price for a well-built sax, assuming I'm not wrong with the info that I have.
This one is 4635XX. That dates it to circa 1965-1970 (1965 was 408818 and 1970 was ~520000).
Generally speaking, I know that Buescher saxes made after the Selmer acquisition (Roughly after S/N 381,000 / 1963) are frowned upon...but this one appears to have all of the goodness of the Buescher built saxes, so I believe it was built before they "cheapened" everything.
Sadly the pawn shop had a local mobile instrument repair place give it a "tune-up".
For starters, can a sax tech with a trained eye please confirm that the pics below show my sax has snap-in pads? I was going to grab my spatula tools and pop one off to check, but I figured a post here on SOTW would be just as quick to get an answer before I tear into this one.
Assuming it is indeed a snap-in-pad Buescher, it now has "new" pads on the C key mechanism, F# and low Eb. The low Eb now has a brown plastic reso on it now like any modern sax has...the F# looks like the tech used an older pad they had sitting around instead of a new one...and the stack C pad appears newer than the rest - s if it's definitely a snap-in pad pad horn, they neutered a few of the snaps.
I bought it because:
It has an underslung octave key mechanism, which makes it an "earlier" 400 made during the Selmer years when they were still using the original Buescher parts and designs
It definitely has gold Norton screw-in springs and the tan rollers (the later black rollers are a sign of the cheaper student saxes after Selmer took over)
I *believe* it has snap-in reso pads - minus the ones that suffered the aforementioned savage neutering if it's really a snap-in pad sax
Despite the nickel-plated key look, the mechanisms are all heavy-duty and pro-quality, albeit with a heavier feel than my modern Yani T-901 or Yamaha saxxes
I have "dabbled" in sax repair on a Ditta Giglia Italian Tenor that I have - and it turned out great with white Roo pads and metal resos. I'm good at tearing a sax down and putting it back together...I have tone-hole leveling files...can re-pad with enough skill to make it all work...(have a shellac gun and some pad pricks and leveling tools, leak light, etc.) but I have no dent-removal tools or skills. I normally tear down a sax completely (but leave the springs alone), clean it, then take the body to a local shop for dent removal, then re-assemble and re-pad it myself. I want to get this one clean and fully-re-padded with new snap-in pads because I think it is a keeper. It plays nicely top-to-bottom as-is right now (what a lush, rich sound these Bueschers have!), but I can tell it is not sealed up as tight as a Yamaha YAS-23 Vito stencil I also have, and I'm sure it's because the pads are all old and shot, so I want to get it into tip-top shape.
On to my specific repair questions:
After I tear it down, what is the best solution to use to clean the sax without damaging the lacquer? I want to kill the stank - but I don't want to strip it. It still has a lot of lacquer which is all original as best I can tell.

Assuming this is a snap-in reso pad horn, which keys have snaps and which don't on these Buescher altos? I seem to recall when working on my Buescher 400 bari (1960 S-80) a few years ago that the smaller diameter pads had no snaps but had a metal resos and were shellacked in? Is that correct? Then the larger diameters were all snaps. I'd like to determine how many spuds and snaps were destroyed....1,2 or 3? The Eb is for sure...but what about the C and the F#? Did they all 3 have spuds-n-snaps?

Again...if it's a snap-in pad horn, to whom can I send the removed key-work to get the neutered spud(s) and snap or snaps restored with replacement spuds and snaps before I re-pad it, and what's a typical cost for that fix? I know Matt Stohrer does that type of repair but he doesn't normally work on horns like this one that aren't highly collectible. Who else can re-spud?
Thanks!
Shane
Pics: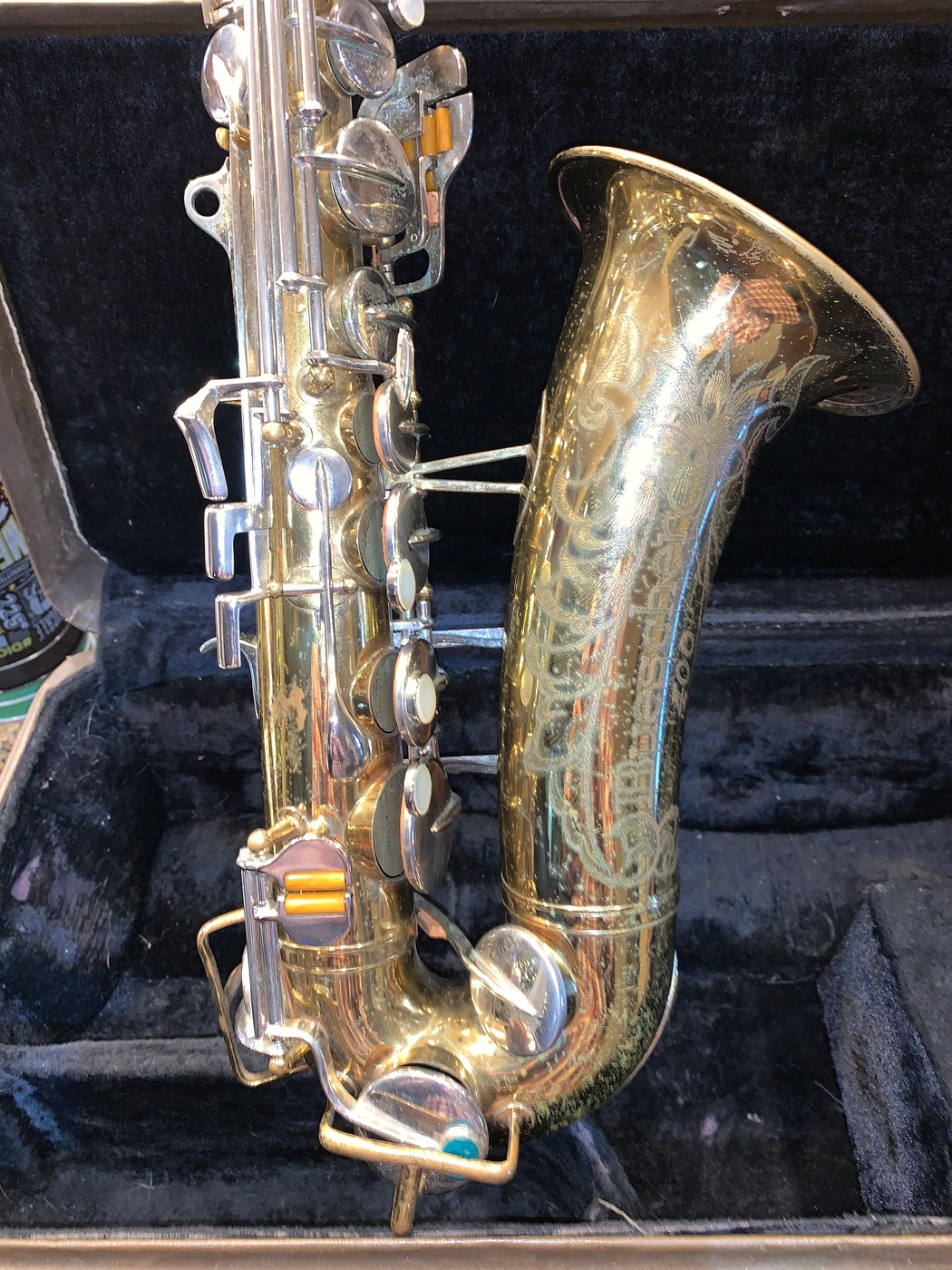 Replaced Eb:
Replaced F#:
Replaced C: