Discussion Starter
·
#1
·
A couple of months ago I had the privilege of spending a couple of hours with Ken Barry at his home/workshop in Arizona. His workshop is small, but impressive and Ken made a point of showing off the new CNC equipment he installed to make better, more precise mouthpieces. More importantly, he could make pieces more quickly than with his old equipment. However, a great deal of handwork still goes into each piece before he deems them worthy of the neat new Saxscape logo. Of course, Ken didn't invite me over just to show off his tools. I was there to play some mouthpieces, and I brought my tenor all the way from New Jersey to do just that. Naturally I brought a bunch of mouthpieces with me for Ken to scrutinize and play himself. He's always looking at the work of other crafters and thinking of new ways for a mouthpiece to bring out the best in a player.
One piece that Ken was really excited about having me try out was a brand new slimline design that he had been working on for over a year called the Arizona. It features the most intriguing chamber/baffle concept I have ever seen and is like nothing I have ever seen, or played, before. At the time there were only two in existence. I only played the Arizonas in Ken's shop for a few minutes, but was sold immediately. I loved the way they played so much I ended up taking one home with me. I went with the second example that he had made because I felt that it suited my playing just a little bit more than the first piece. (OK, that's a big part of the reason. The fact that the first piece was Ken's daily player and I didn't have the heart to buy it from him also factored in!) How much did Ken lighten my wallet? Let's just say I had to wait for my wife to leave the room before I paid him and then some nice jewelry from a Navajo artist in Tubac made my wife forget about asking!
Seriously though, Ken has now introduced the Arizona to the market through his website, saxscape.com, and on Reverb.
https://reverb.com/item/15563016-saxscape-arizona-2018-tenor-sax-mouthpiece-104-slim-profile-delrin
At $275 the Arizona isn't exactly cheap. But the price is right in the ballpark for a precision made, hand finished piece, especially one this complex and original in both concept and execution. Now, Ken claims that the Arizona "is designed for tenor players who like Otto Link metal mouthpieces." I wouldn't know about that. I've never played a metal link in my life and I'm mainly a hard rubber guy. Here's how Ken describes the Arizona: "The inspiration for the Arizona comes out of a tradition of mouthpiece makers such as Otto Link and Bobby Dukoff, and the sound of John Coltrane. The Arizona also implements design concepts from Coltrane's mouthpiece technician Frank Wells. Modern computer design and precision machining, combined with old-world traditional craftsmanship, results in one of the most fun and consistent sax playing experiences available. The Arizona excels in dynamic range, smoothness of response, and timbral flexibility, while never compromising pure expression. Add to this the ultimate in reed friendliness, the slim profile form factor, and the stability and toughness of Delrin, and this might just be the last mouthpiece you'll ever need."
I've had a couple of months to play my Arizona. But let me preface this by saying that I have a lung condition and sometimes my breathing is, well, problematic. Some days I breathe great. Some days, not so much. Playing the saxophone is great respiratory therapy for me and each new toy is new motivation to try whipping my lungs into shape. As a result, I tend to play softer reeds and look for mouthpieces that let me create the sound I want without requiring more air than I can produce. Free blowing is an essential quality in any mouthpiece that I intend to play regularly. So how does the Arizona stack up against Ken's claims?
I don't know how Ken came up with the Arizona's very unique baffle/chamber configuration.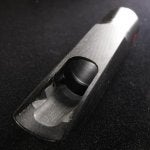 I have a Frank Wells alto piece and while I get some of what Ken says about Wells' design concepts, I really don't see that influence in the overall design. What I do see, and feel and hear when I'm playing, however, is a unique way of combining a bright, high baffle piece with a lush, dark concave baffle piece in a single mouthpiece. I'm convinced that the channel running down the center of the baffle into the chamber is the real secret to the Arizona's unique play qualities. Just my opinion. I'm sure the secret is much more complex than that.
My Arizona is a .103 tip. (Note: The production pieces are currently .104s. Just a single thou difference, but noted for the sake of full disclosure.) As I told Ken after my initial play tests at home, what I like most about the Arizona is that he was able to achieve what I call "big tip dynamics" in a tip that's more comfortable for most players. At least that's what I feel it does for my sound. At .103 the Arizona isn't a particularly open piece. (I have a one of Ken's Hudsons in a custom .120 tip that I thought I'd never be able to play, but actually find quite effortless and versatile.) Yet, I can get just as much volume and dynamic range from the more closed Arizona as I can with that wide open Hudson. The best way to describe it is "big tip dynamics with small tip ease of playabilty" and a lay that's well matched to the tip.
Most of my play testing was on an Orpheum Deluxe (R&C stencil) that I had worked up by Ermel Arroyo of Saxman Sax Repairs. I also did a lot of playing on a "fresh from Ebay" but leak-free Schenkelaars (that I had NOT had run through the shop). Ken says the Arizona is "the ultimate in reed friendliness." I have to agree on that. I have other mouthpiece that are very reed friendly. But I put the Arizona through the ringer and it played for me no matter what reed I put on it, and I tried at least a dozen different reeds. Ultimately, though, I found that the Arizona played best for me on cane reeds, especially Marca Jazz 2's. But, the Marcas in a 1-1/2, Gonzalez Jazz Local 627 2's and Rico Jazz Select 2S and 2M's were right behind. I was even able to play RJS 2 Hards and Marca Jazz 2-1/2s on the Arizona with little difficulty and with only a moderate amout of extra resistance, and I haven't been able to blow reeds that hard in years! So the fact that I can play stiffer reeds on the Arizona with no adverse impact on my breathing or my playing is definitely a major plus for me, as is the ability to slap on just about any reed in the 1-1/2 to 2 range and be off to the proverbial races.
I will admit, though, that finding the ideal ligature for the Arizona was a bit of a challenge. I normally use a Francois Louis Ultimate metal tenor lig on pieces this slim. But, in the end, the Ultimate didn't quite do it for me. It didn't fit as snug as I like and I found it very difficult to get the reed lined up properly so as to not have any air leaks. It also didn't take much for the reed to shift, and not just when tuning. The reed would often slip out of alignment while I was playing! I'll chalk that up to the rather slippery nature of the delrin from which the Arizona is made. Now, a Rovner type lig would probably work very well. But, alas, I couldn't find one amongst my many that quite worked with the Arizona, although I'm sure there's one out there that will. Finally, after much trial and error I DID find a single screw lig from a Keilwerth/Wagner streamline tenor piece that works exceptionally well and I've been using it ever since with great results. It conforms well to the Arizona's shape and holds the reed exactly where it needs to be, even while tuning.
So how does the Arizona really play? In short, it's a killer piece. I found the Arizona to be a smooth and easy playing piece with a lot of color to the sound. The baffle design really gives me the ability to make the horn speak just about any way I need it to. I get vibrant highs and lush, deep lows. I can go from a whisper to a shout and back again in a single breath, with only the slightest change in the amount of air given. In fact, what I like most about the Arizona is having the ability to easily color my sound with only slight changes in embouchure or breath support. The timbre in all registers is just astounding to me as is the way it seems to be able to darken up the natural brightness of the Orpheum and brighten up the natural darkness of the Schenkelaars. At least, that's how my ears perceive it.
I apologize for not having any way to record my playing at this time.
Another sign that the Arizona is an exceptional piece is that it made two previously "unplayable" horns remarkably playable. Just for fun I figured I'd try the Arizona on two Holtons I have sitting in a stand - a Collegiate 576 and a Collegiate 577. Both are, to be kind, a little rough, unregulated and can use some pad work. With the Keilwerth lig and a Marca Jazz 2 reed the Arizona made both of these "not nearly ready for prime time" horns not only play, but sing. For the first time EVER since I got them I was able to play both Holtons full range The more I played them, the better they responded and the better they sounded. It was a great feeling being able to just play them and play them well even though I know that I still need to clean up the leaks, change some pads and adjust some springs. Believe me, I've tried MANY mouthpieces on the Holtons before the Arizona, all with terrible results. The Arizona just let me blow through all the horns' problems as if they weren't there. That, to me, is a testament to a great mouthpiece right there. (I know it's not me. I'm not that good of a player.)
Is the Arizona really, as Ken claims, "the last mouthpiece you'll ever need?" For me, maybe not. It i
s
a very emotional piece, but it doesn't really do the "dimly lit, smoke filled room sound," that well. But... if I ever need that sound, I have an Eddie Bayard Blues Link and Ken's own Uptown Dark. And despite it's ability to get loud on demand, the Arizona is not a paint peeler. So...if for some reason I ever do need to peel paint, I have a BoPep modified Morgan Excalibur and a Jumbo Java for that. However, for every other sound concept I can think of, the Arizona will easily get me there and I think most other players will find that to be the case as well.
Is the Arizona really "one of the most fun and consistent sax playing experiences available?" Does the Arizona "excel in dynamic range, smoothness of response, and timbral flexibility, while never compromising pure expression?" A big YES to both. Because, Oh Boy! is the Arizona ever a fun mouthpiece to play. It's very versatile and can do almost everything I ask of it. I can be raucous with it. I can be gentle with it. I can make it scream and I can make it cry. To me, the Arizona is all about pure expression and raw emotion. Every time I've put it on my sax I just wanted to keep playing it because it's always taking my sound somewhere new and I want to see how far and in how many directions I can go with it. It's just that good.