·
VENDOR "Innovation over imitation"
Discussion Starter
·
#1
·
I am putting out the word about the changes to my hard rubber mouthpieces, and announce the metal line that will come out as the year goes on.
10MFAN MOUTHPIECES HAS A NEW CRAFTSMAN AT THE HELM FOR BOTH THE HARD RUBBER AND METAL MOUTHPIECES.

EXCITING NEWS AHEAD!
I thank Eric Falcon for his hand finishing and mouthpiece work for the past 6 years for me.
I now have a new craftsman at the helm for my hard rubber line and Matt Marantz will be at the helm of my metal line which will be released as this year goes on.
I am already working with a world class craftsman with my 10MFAN hard rubber mouthpieces, and he is someone you all know and respect
greatly
. He has asked to remain anonymous for now. I wont say who it is, so please don't ask...thank you. All I will say, is that my hard rubber mouthpieces are in the great hands.
I value my clients tremendously and aside from my family, my 10MFAN mouthpiece line means more to me than anything.
The new changes to my 10MFAN hard rubber tenor and alto mouthpieces:
Thank you for all the great feedback! Players all over the world love their 10MFAN HR mouthpieces, but through this craftsman change, we will make the experience fresh. I am especially excited for those of you who didn't care for the longer facing curves on my pieces. Eric and I dug those, but I can see through feedback, that so many others want the curves to be less long, and more traditional. No problem, I get it.
This is very exciting news for players all over.
Facing curves play such an integral part in how the player feels about the mouthpiece and the sound. I have listened to the great feedback and understand that there are many players that want more to push against to color the sound even more. I have discovered through trying some different facing curves with my new craftsman, that I can use more traditional facing curves and just allow the designs of my original mouthpieces to do what they were designed to do, without forcing anything by using the longer curves. Of course the big boy tip openings will use longer curves, but even those curves are different from what we've used.
This changes everything!
By the time you read this, the new changes have already been implemented and I am now using a more traditional set of modern facing curves that will allow more players to feel the right amount of resistance they have looked for, while allowing the mouthpieces to blow great and smooth top to bottom. Players will also be able to use a slightly softer reed and really be able to whisper even better on the pieces.
I instructed my new craftsman to do everything he feels necessary to make these pieces absolutely perfect. We have been going back and forth with the curves and how he is finishing the pieces. His handwork is sensational. Here's your opportunity to see what my pieces are like from this new craftsman.
The tip rail widths have also changed for you, so they are no longer super super thin like we had them. They are wider than they were, to allow players more flexibility in lining up their reeds without having to be so precise with the placement. All this, while still keeping the articulation clean… like you expect from my 10MFAN mouthpiece line.
A NEW CRAFTSMAN AND NEW HANDWORK DESERVE A NEW DISTINGUISHABLE LOOK:
The way to differentiate my new pieces from my old pieces is that all of the new ones will be painted with gold paint, not the white, which we used before. They will also have U.S.A. engraved on the side, and will also have a different tip number stamp and star stamp on the side.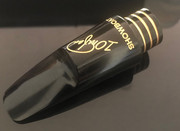 10MFAN METAL MOUTHPIECES: MATT MARANTZ + 10MFAN TEAM UP FOR SOME METAL MAGIC!
Something else that I am very happy to announce, is that my new 10MFAN metal tenor mouthpieces will be out this summer and fall. We are starting with my Black Widow model. I will also introduce my Classic, Robusto, and Showtime models in metal as this year goes on. My friend Matt Marantz will be at the helm of the refacing work and plating work on my metals. It gets no better than this!
The new changes for my new metal tenors:
For my new metal line, we are making the bodies thinner and lighter than before. These will fit tons of ligatures, and make players very happy. I am looking to use a body size similar to the old Link metals. I find them comfortable, not too thin, and not too wide. The Guardala body size is a little thin for my tastes. Its all about constantly improving what you do. When you stop listening and stop being open to changes, that's when you stop improving!
The facing curves, the tip rails, the resistance, and feel of the pieces, are all different from where they were, and will be the same on my metals as my hard rubber pieces. This is very exciting for me as a player, and for a whole new generation of 10MFAN fans.
Thanks for your support, as always. My goal is to make the finest
ORIGINAL DESIGN
mouthpieces in the saxophone world, and your suggestions will make my mouthpieces even better for more players.
Thank you for that! If you have any questions, feel free to write me.
All the best, Mark