·
VENDOR "Innovation over imitation"
Discussion Starter
·
#1
·
Hi guys,
Lets keep the momentum going, and keep in the spirit of giving back.
I sell my beautiful German bar stock marble hard rubber tenor mouthpieces for $550 normally.
I have 8 models here that Eric Falcon did, and they are new and ready to go.
Keeping with the spirit of giving back, I am offering these last 8 pieces for $375 each plus shipping family and friends PayPal.
Thats $175 off what they normally sell for.

I am happy to do this for you.
Let me know what you would like, and everything is ready to go.
1. BLACK WIDOW 7** WITH GOLD

2. ROBUSTO 6* WITH WHITE

3. ROBUSTO 7* WITH WHITE
4. ROBUSTO 7** PURPLE WITH WHITE

5. ROBUSTO 8 WITH WHITE

6. ROBUSTO 8* WITH GOLD

7. ROBUSTO 8* WITH WHITE
8. THE CLASSIC 7* WITH GOLD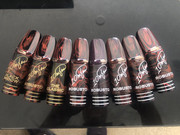 Shipping from Florida
Email me at:
[email protected]
All the best,
Mark