Discussion Starter
•
#1
•
Hi guys!
As the year comes to an end, I'd like to fill you in on what's coming up for 2020.


A SPECTACULAR NEW HR ROLLOVER BAFFLE ALTO MPC:
I will be releasing an INCREDIBLE larger chamber hard rubber alto mouthpiece with a rollover baffle.
It's my first rollover that I will introduce and it gets a beautifully big and full warm sound.
I have been working so hard on this and I am incredibly pleased with how this model has evolved.
For all you guys that like vintage rollover pieces, you will really go crazy for this. The sound is so big and full and incredibly even playing top to bottom.
I could not be happier with this model, and I have a feeling it will become my most popular alto model over time, because it will appeal to so many players who have asked for this type of piece.


HR TENOR MPCS:
—-Along the same lines as the alto, I will be releasing my 1st tenor mouthpiece with a rollover baffle.
—-I am also working on a streamlined model for those of you who love the sound of my pieces but want something more streamlined in design.
No one is putting out better finished pieces. The price is phenomenal for a hand finished mouthpiece of this quality. Here is my Robusto hr: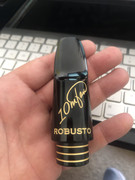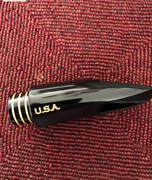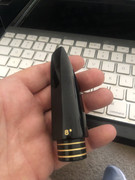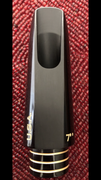 METAL TENORS:
In about 2 1/2 weeks, I will FINALLY have my first metals to release.
I am sorry for the delay, but as these get ready for release I've had to make alternative plans for the finishing and plating. I am extremely resilient and focused, so I take care of the tasks at hand. I appreciate and thank all of the people who have ordered the new metals, for their patience and understanding. Everything has now been taken care of, so we are back on track and moving FULL SPEED AHEAD!!!
The same GREAT craftsman who does my hard rubber and Ultem pieces, will also be doing my metals. 😀
I am really excited about this.
Initially, Matt Marantz and I were very excited to work together with this metal project, but after many discussions, we realized that because of Matt's busy schedule and the amount of orders I get, there would be a much longer delay between getting pieces back for me. I just don't want people waiting months for metal mouthpiece orders, once these are made public. This means now, that my pieces will go to my great craftsman and then they will be sent to my plater, and then back to me. My plater does the mouthpieces for Theo and Jody, so we are in good hands! Right now my plater is on Holiday vacation, so I won't get the 1st big group of pieces back for about 2 1/2 weeks.
We are almost there, so just hang in there with me. I made the decision to go with the change in how the pieces are finished and all of that, so bear with me and I will have the first group available right around January 18th or slightly sooner. I will have Robusto and Black Widow Metals. My other Showtime and Classic Metal models will come out in the spring.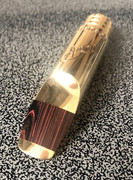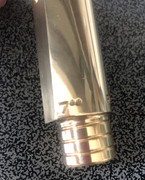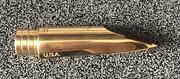 HR SOPRANO:
Yes, finally.
I am working on a model right now that is like my Robusto model, because I think that will be a wonderful piece for soprano players. This will be out at the beginning of the summer, if not sooner.
BARI MPC:
After I get through the rest of the stuff mentioned above, I will finally get to a baritone mouthpiece. For all you guys that are sick of just being offered pieces that are copies of Bergs and Links, this will be a breath of fresh air for you! I am hoping to have these out in the summer also.
ULTEM ALTO AND TENOR MPC'S:
Starting right after New Year's, all of my orange Ultem pieces will be able to be ordered on an individual basis.
Just let me know what size and model you want and we will make it.
The shop is overwhelmingly happy with how many of these pieces we have sold, so they are willing to do these on an individual basis, which they weren't able to offer me initially.
The hard rubber and Ultem pieces will be the same price as one another. They cost me the same amount from the shop to get made, and they sound the same to me from the players perspective... so it comes down to you just picking the look that you like the most.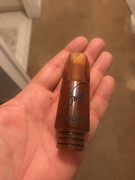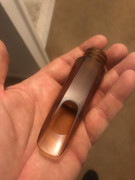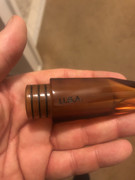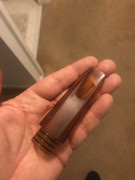 MY WEBSITE:
Because of all these additions, the website will be updated as time goes on.
Again, bear with me as we work on this. All of the mouthpieces that I offer are my Generation ll mouthpieces only.
Everything has been updated for maximum performance.
DEALERS:
I have dealers overseas and I have had only one dealer in the states, because I didn't want to have dealers in the states. I wanted to just sell directly to players here, but I see the benefit of having some more dealers in the states, so this coming year I will make a big effort to get my pieces out there so that you guys can try them at the stores. I know Saxquest and Tenor Madness will be carrying them, as will many others.
I am in talks right now with several more dealers overseas about carrying my Gen ll mouthpieces.
Thank you for your support, and helping to make 2019 an absolutely amazing year for 10MFAN Saxophone Mouthpieces.
Happiest of holiday wishes to all of you!
All the best,
Mark